The degree students of SHTCA embarked on the annual immersion trip hosted by Swiss partner institution, the International Management Institute (IMI) from 27th July to 4th August 2022. This year, a total of 74 students and 3 lecturers went on the educational trip to the IMI's campus in Lucerne, Switzerland.
Image above: UOWMKDU students and staff at the beautiful IMI campus
The 10 days trip to experience an immersion into Swiss culture comprised activities such as classes with IMI lecturers on campus, tours to chocolate and cheese factories and other places of attractions and generally experiencing life as a student in Switzerland.
Students involved in the IMI educational trip completed the "Current Trends in Tourism & Hospitality" (CTTH) module which was delivered in two phases by IMI Postgraduate Program Leader, Mr. Ioannis Evagelou. Phase one was conducted in March virtually and the second phase (final) was completed at the IMI campus. The CTTH module, which continues the 2017-2021 "Sustainable Trends in Tourism & Hospitality" five-year successful delivery in Malaysia and Switzerland, is now revamped under a new title ("Current Trends in Tourism & Hospitality") and aims to address contemporary trends and practices within this 'new' situation for the entire global tourism and hospitality industry.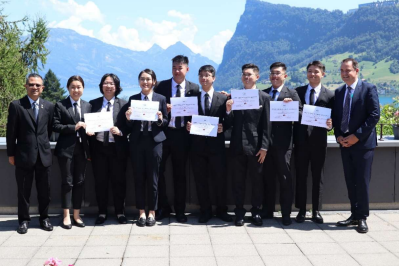 The SHTCA lecturers accompanying the students were Chef Mohd Azrol, Sharizal Kamaruddin and Chef Khairul Anuar.
---
This content is provided by UOW Malaysia KDU.