Everyone has at least one in memory: a teacher who paid attention to their problems at school or taught something in a way that made them remember it for years.
School teachers with an earnest dedication to their students are treasured community leaders, and UOW Malaysia KDU was glad to honour the most revered ones in Selangor recently.
The campus worked with Selangor's Petaling Perdana District Education Office between April and June 2022, to organise the Passion Teacher Award, held to mark Teachers Day.
Nine schools in the district, out of which school principals of each school nominated 10 teachers each.
Students in all the schools then joined an online voting platform to choose their favourite teachers.
These nine teachers were entered into the preliminary round, and the students were once again asked to vote for a teacher to be selected as the winner of the Passion Teacher Award.
The winner received a grand prize of RM2,000, a trophy and certificate, plus a full scholarship to pursue the degree of his or her choice at UOW Malaysia KDU.
The remaining shortlisted teachers each received RM500, certificate and trophy.
The participating schools were SMK Bukit Jelutong, SMK TTDI Jaya, SMK Sultan Salahudin Abdul Aziz Shah, SMK Seksyen 7, SMK Seksyen 9, SMK Shah Alam, SMK Puchong Utama 1, SMK Setia Alam and SMK Kota Kemuning.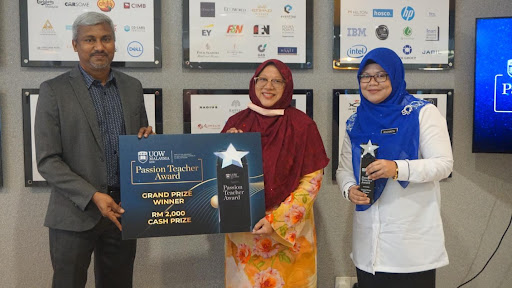 The winning teacher was Cikgu Zubaidah Zakaria from SMK Shah Alam.
Aged 49, Zubaidah has been teaching for 25 years and she now teaches the English subjects to students in Form 3, 4, and 5.
Zubaidah said she was ecstatic about winning a full scholarship to pursue a degree of her choice at UOW Malaysia KDU, adding that she was a firm believer in the value of lifelong learning.
She said there were many courses that she had always wanted to pursue, and she would plan hard to make her choice a valuable one.
Her courses of special interest are Master of Business Administration (MBA) and Master of Arts, she revealed.
Present to honour the teachers were UOW Malaysia KDU Deputy Vice-Chancellor (Administration) Shanker Sathivellu and Petaling Perdana District Education Office Assistant Director (Student Affairs) Puan Rozanita Mohamed Rashid.
Shanker expressed gladness at the chance for the campus to honour school teachers.
"We saw just how dedicated members of the teaching profession are during the pandemic.
"Universities, colleges and schools were closed. At UOW Malaysia KDU, our lecturers did the next best thing: they went online.
"They turned a corner of their own homes into broadcasting studios, complete with the proper lighting, microphones and IT software and hardware.
"They developed strategies and techniques to make sure students paid attention during online sessions," he described.
The same was evident for school teachers, he said, adding that social media was rich with stories of how school students and teachers connected online.
"It is said that there is no such thing as bad students, only bad teachers.
"So, we are honoured to have this chance to recognise our great teachers," Shanker said.
---
This content is provided by UOW Malaysia KDU.
Interested in having your announcements on Malaysiakini? Contact the announcements team at [email protected] or whatsapp on +60 17-323 0707 for urgent matters.