For a whole semester, culinary arts students at UOW Malaysia KDU get to 'operate' a real café.
Every day, they are driven to work as a team, and students divide among themselves to handle the marketing, serving, and cooking to keep the café alive.
There would be squabbling. Those sweltering in the back kitchen tend to have friction with the sales and service teams. This is reality.
But the lecturers have seen this time and time again and are fully prepared to quell the rising temperatures and teach everyone how to keep a cool head and serve the best food in the shortest time possible.
If they cannot overcome this, they will fail.
"It is very real.
"They must not make losses. Their menu must be delightful and attractive, yet profitable. Their market is the campus population, but they can market their café to everyone in Penang and even do deliveries too," said Cindy Loh, Head of the School of Hospitality, Tourism and Culinary Arts (SHTCA) at UOW Malaysia KDU.
Obviously, this is one of the most challenging semesters of the campus' culinary arts students.
Students are allowed to study the menu items created by past students who had helped make the campus' Bon Apetit Café a local brand.
"We teach them how to innovate while keeping to culinary standards," Loh stressed.
But overshadowing and looming over all that creativity is the blanket need to keep the operations within budget so that the café would not buckle beneath the realities of running a business.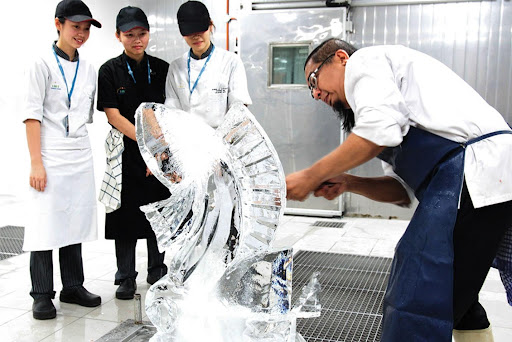 From its campuses in Selangor and Penang, SHTCA offers a wide range of four Bachelor Degrees in International Culinary Arts, International Hotel and Tourism Management, Hospitality Management, or Culinary Management, three Diploma paths in International Hotel Management, Professional Chef Training, or Culinary Arts, a Certificate in Hotel Operations, a Master of Science in Hospitality and Tourism, and a Doctor of Philosophy in Hospitality and Tourism.
Each of these courses are filled with subjects finely tuned to the specific fields that students feel an affinity for to help them excel in their careers in hospitality, tourism and culinary arts.
These enlightening subjects include front office management, hospitality and tourism geography, event management, food and beverage services, menu development, culinary essentials, food nutrition and production, culinary artistry, molecular cuisine, and even advanced butchery.
After training thousands of hospitality professionals since the 80s, UOW Malaysia KDU partners with global organisations and its graduates are recognised by World Association of Chefs Societies, Pacific Asia Travel Association and Malaysian Food and Beverage Executives Association.
For a clearer view on choosing the best learning route, call UOW Malaysia KDU at 03-5565 0538 (Selangor Campus) or 04-238 6368 (Penang Campus).
---
This content is provided by UOW Malaysia KDU.
Interested in having your announcements on Malaysiakini? Contact the announcements team at [email protected] or whatsapp on +60 17-323 0707 for urgent matters.